** Please note this programme is now closed.**
This programme will award grants to charities and CICs with substantial experience in supporting Armed Forces families and to Armed Forces units.
This programme is about supporting Armed Forces Families facing challenges. Large grants will help to address substantial challenges; providing funding for transformative ideas. Medium grants will support projects that make a proven difference to Armed Forces Families and will support existing work. There is an overall budget of £7.5 million.
The programme will make grants to projects where we can see that the project is addressing a clear need, and where we think the idea will be of practical benefit to Armed Forces Families. The focus of the project should be on supporting the family; rather than serving personnel or veterans.
This programme will award grants to Armed Forces Charities or CICs or Armed Forces Units working with Armed Forces Families. We will also award grants to charities and CICs which have recently (within the last two years) delivered substantial projects or programmes of work specifically supporting Armed Forces Families.
This programme will be delivered in two strands: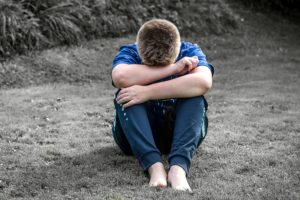 Medium Strand: Grants of between £30,000-£100,000 to support existing or new projects that meet a clear need for Armed Forces Families. The medium strand is now closed.
Large Strand: Grants between £100,001- £300,000 with some exceptional projects potentially receiving up to £500,000. Projects will need to be able to show that they will have a transformative effect, and that the changes they achieve will be sustainable. The large strand is now closed.
There are three key groups of people that we would like to support under this programme
Young People from Armed Forces Families
Families and Carers of Veterans
Serving Families
You must choose one group to apply under. If your project will support families from two groups, chose the group which is the best fit for your activity. Grants are for projects lasting between one and three years.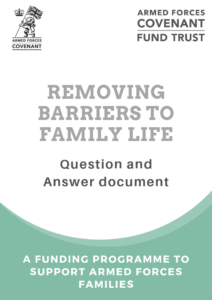 We've also produced a Question and Answer document. If you have any questions about the programme that are not answered in the guidance, then do have a look in the Q&A document.
If you can't find the answer, then do get in touch with us, and the details on how to do this are in the Q&A document.
The closing date for expressions of interest under the Large Grants programme has now passed.
The closing date for single stage applications for Medium Grants has now passed.
You need to apply for this programme online. Many organisations find it helpful to read the application questions first. You can read the questions for the Medium Strand and the Large Strand.