Congratulations on receiving a grant
This section contains documents and resources to help you in managing your grant; and to understand what comes next.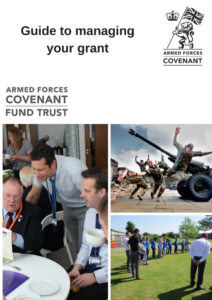 Do read our Guide to managing your grant
Your grant supports the ideals of the Armed Forces Covenant. The Armed Forces Covenant is a promise by the nation ensuring that those who serve or who have served in the armed forces, and their families, are not disadvantaged. You can find out more about the Armed Forces Covenant here
We wish you success with your funded project, and look forward to hearing about your progress – both in the formal reporting we ask for as part of our terms and conditions, and from your press cuttings, announcements and pictures, which we are happy to receive by email at any time.
The Armed Forces Covenant Fund Trust can only achieve its objectives through the programmes and projects that we support – that is, through you, the organisations to which we award grants.
You'll need to think about how to let people know about your grant. There's a lot more information in the Guide to managing your grant; and you'll need to get the Armed Forces Covenant Logo  This is important; as you must display this logo to acknowledge your grant.  This link will take you to the Brand Portal. Choose the Logo you need and download it. There will not be a watermark on it after you have downloaded your copy. Most projects prefer to use the version called AFC POS RBG in the PNG version
You can also use our Logo
If your project is complex and involves a number of partners who are helping you to deliver your work; particularly if they are receiving part of your grant or if your project could not go ahead without them, then you'll need to develop a partnership agreement; which we'll need to see a draft version of. We've produced some partnership agreement guidance. 
You might also like to think ahead to the end of your grant, particularly if you have received a grant under our Armed Forces Covenant Local Grants priority. This is some information on the questions that we will ask you at the end of your grant. If you have a larger grant; we will talk with you about your milestones.
Do you have an award under the Armistice and Armed Forces Communities Programme? Please go to our dedicated section to help you manage your award.