The Covenant Fund makes grants in support of the Armed Forces Covenant. There are four overall themes that the Covenant Fund must take into account now and in future years when making decisions.
Non-core healthcare services for veterans;
Removing barriers to family life;
Extra support after service for those that need help; and
Measures to integrate military and civilian communities and allow the Armed Forces community to participate as citizens
In this section, you can find out about the grants that we have made this year. For earlier grants, please go to the About Us section to read our Annual Reports.  If you have a grant with us; you can find some useful resources in our section for Grantholders
Awards have been made to 2679 organisations. Read the full list of  Armistice and Armed Forces Community Round One Awards , Round Two Awards and the additional Awards to youth organisations
You can also read about some of the projects we have funded through the programme here and also here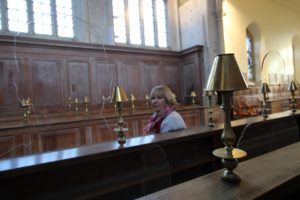 Compton Dando, in Somerset, will be bringing their community together to remember all those who fought during the First World War, especially the three villagers who died during the war: Ben Harding, Henry Harvey and Fred Light. The project was awarded three silhouettes under round one of the programme  These silhouettes will be placed in the village as reminders of the three soldiers who died between 1914-1918. There will be an exhibition which will be open for three days from Friday 9th November to Sunday 11th November between 11.30am and 3.30.pm, in St Mary's Church. There will be a church service on the Sunday, followed by the Act of Remembrance at the war memorial. The church bell ringers will also be 'Ringing for Peace' on Sunday. Teas and cakes will be available on all three days.
 10 Silhouettes were awarded Guild Chapel in Stratford-upon-Avon. Each silhouette will represent a soldier from Stratford-upon-Avon who fought in the First World War with a plaque giving their name, regiment and dates. Many of those who went to war and never returned were former pupils of King Edward VI School and the school is collaborating with the Chapel for a special 'Evening of Remembrance' as part of the project. On Tuesday November 7th, the 'old' boys of KES and of Stratford will be commemorated by the 'new' boys who attend the school. Ten pupils will sit next to the ten silhouettes, standing to read their name, regiment and story.
 If you have an award under this programme, please visit our section for award holders
The Armed Forces Covenant Fund Trust has announced the third round of grants awarded under the Armed Forces Covenant Local Grants priority for 2018/19. Read about the 33 grants totalling £563,016 made under the third round. We've got a feature on some of these projects here.
Read about the 45 grants totalling 723,973 made under the second round. We've got a feature on two of these projects here.
Read about the  29 grants totalling £415,217,  awarded under the first round.
You can also read about grants that were awarded by the Covenant Fund in earlier years below